The trumpets, the beat, the lights… the kid
Half past nine on a chilly thursday, me and some friends grabbed the 301 bus to… somewhere. After a few stops we realised it was the wrong bus. So we got off, took the 305 to Romaero station, and almost missed it, because RATB.
Small crowds of people everywhere, all heading toward Hangar #6 where they would become a huge crowd, but not before the queue. Despite all the complaints and messages I read the next day everywhere, I think me and my friends got really lucky. I'm not going into details, but we got in in under an hour, we knew enough people inside not to get bored before Woodkid went on stage and with a bit of patience we got our clothes from the wardrobe in a reasonable ammount of time, considering everyone was eager to get out.
At 12:35 it started: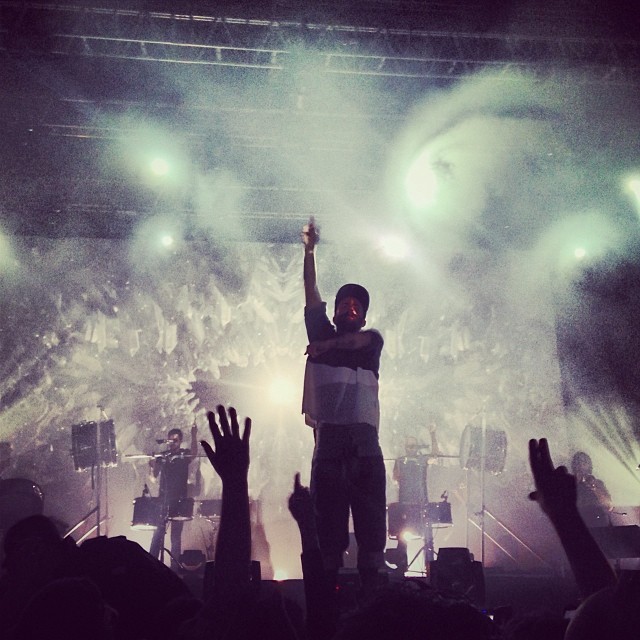 Everybody went nuts. Some because of the waiting, some because of the drinks, and other because of other substances…
The show this man, kid or whatever he considers himself, pulled was one of the best music/visual experiences I've ever had. He is definitely up there with The xx.
After getting warm at the entrance with ABSOLUT's sensorial tunnels and having a blast for about an hour with Woodkid's whole experience I would nominate this for the event of the year in Romania.
Yoann Lemoine's background in directing and graphic design sure put its stamp in organizing the event together with ABSOLUT. Have a glimpse at what happened in Paris here, and a short Instavideo by Alaska from that night (the weird noise, that's a tuba).
Here are some more shots: